November 27th is the Next Application Date for LEO Grant Course in Wexford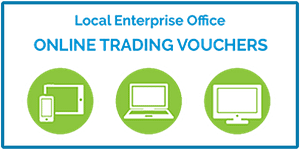 LEO Online Grant available – Just letting you know that there is still time to apply for the Local Enterprise Office Online Trading Voucher course. The course is free and it is available for people from any kind of business. You can check out and apply for the course here.
It is necessary to do the course in order to get the grant. As you will see it is only for a few hours and it is obligatory so that businesses can get the best use out of their grant rather than use it wastefully. The grant is 50% of your online setting up fees, up to the value of €2,500 so it is not to be sneezed at. The course describes what you can use the grant for such as SEO Services Website Design and Build and PPC.
No1 SEO Ireland is happy to work with clients who are applying for the grant. We can give you a detailed quote that covers all sections of online business that you will need to get up and running.
For a no-obligation chat call us at 089 479 9227 or just use our contact form.