Website Analysis: What Are You looking for?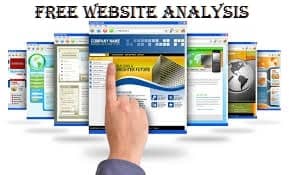 Website Analysis can often be the first step between an average website and a GREAT website. Your website is there to make you money but it can't do that if:
A)  If it never gets noticed
B) It does not get conversions
When getting your website analyzed you need first to find out why it is not ranking well:
There are many reasons why your website is not performing. We have included a list of the main ones below.
They are:
Poor Keyword research e.g. our keyword for this page is 'website analysis Ireland.' Appropriate keyword researched for this subject.
Bad Onsite Optimisation (In our opinion there is no pint in building a website and then leaving it badly optimised!)
Plagiarised Content (Copy and paste – BAD!!!)
Thin Content (Make an effort to write engaging content
Black Hat SEO (Quick returns normally come back to bite you afterward!)
Bad Sitemap (Very common mistake made by oh so many web design companies.)
Bad/Incorrect Hosting ( We always like to take a look at the hosting server when working on a website.)
Lack of activity on the website. (Don't be afraid to use social media to bring in traffic.)
…… and many more
And secondly, you need to find out why your website is not converting viewers into sales:
Again there are many reasons why you are not getting conversions.
These are:
Boring
Confusing
Awkard to use
Badly signposted (Crappy menus, adverts, etc. )
Broken links
Not mobile-friendly ( This is a really big fault !!!!)
No calls to action
Cramped
Website analysis should give you answers to the above and many more bits of information that allow you to compete effectively against your competitors.
No1 SEO Ireland offers a free website analysis when you take up any of our plans for the minimum time of one month. We are so confident in our skills that we will not try to tie anybody to a long-term contract. We do offer combined SEO and Website Maintenance packages as well as SEO services or Website Maintenance by themselves.
If you would like to contact us use our contact form here or call us on 089 479 9227