We are glad to say that The Royal Hotel, Arklow are regular clients of No 1 SEO Ireland. They first came to us for a website rebuild a couple of years ago. They wanted a fresh looking website but also to stay with their present platform of Joomla 2.5. No 1 SEO Ireland would be one of the few website development companies in the Co. Wexford / Co. Wicklow area with experience working with Joomla. We restyled their website's look by brightening up the colours, restructuring the layout of the website, and generally giving it a site-wide freshen up.
Their bookings improved, and naturally enough they were very happy with the results.
Here is The Royal Hotel Website 2.0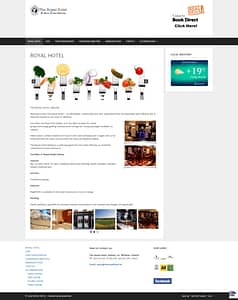 Earlier this year they came to us for a new build.
For the new build, we recommended that the platform to be used would be WordPress. WordPress has several advantages over Joomla (in my opinion). It is easier to train a staff member to update the website. It has more plugins allowing a greater variety of things on the website, but most importantly, it responds better to SEO than Joomla does.
What The Royal Wanted From Their New Website
They wanted to keep the same look as the previous website. It is working for them so they didn't want to change that.
The website was to be made responsive.
New social media links were to be added.
A Twitter feed was to be added.
New pages for accommodation were to be added and the old booking engine was to be removed.
What They Got:
The Royal Hotel website is now fully responsive.
All social media links were added to the website.
An attractive Twitter feed was added. We also added a 'Follow' button to help increase followers.
All new pages were added along with extra sliders to improve the attractiveness of the pages.
An automatic SEO plugin was added to the back end. While without proper onsite optimization it won't perform at it's best, it will improve their present organic rankings.
We also added the W3 Total Cache plugin. This uses a function called GZIP compression to improve the website load speed, and thus it's rankings. It also strips out the CSS reducing it's load time and making the website faster still.
If you would like to contact No 1 SEO Ireland about website maintenance, a website rebuild or a new website build just click on one of the links. Also, remember that we offer SEO services and PPC Marketing.
You can email us using our contact form or call us at 089 479 9227.