Marching The Map – New Bilingual Board Game from Gaelscoil an Inbhir Mhóir Rang A 5
No1 SEO Ireland wants to wish all the best to Rang A 5 today on the release of what is thought to be the first bilingual Irish/English boardgame. Rang a 5 are taking part in the JEP program for teaching national school children the basics of setting up a business.
The artwork designs and how the game would be played were developed by Rang A 5. The game boards, boxes, and cards have all been printed professionally so the quality of the game is as good as anything you will see in the shops and they are selling at the very reasonable price of €24.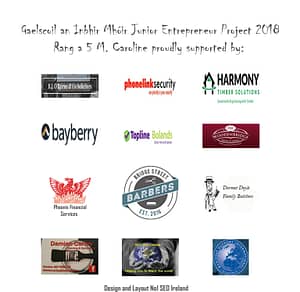 Who is this Bilingual Board Game Aimed at?
The game is ideal for both national and secondary schools as all questions are in both Irish and English and they are all about Irish history or geography. With a good sturdy box and board, these games will last schools for a long time.
It will also be good for parents trying to improve their children's Irish skills as they will be seeing the Irish translations while playing the game.
Want to buy 'Marching the Map'?
If this is something you might be interested in, get in contact quickly. There are only 100 of these bilingual board games in the first run. With enough interest, I'm sure that Gaelscoil an Inbhir Mhóir could be convinced to do a second run but just in case you should get in quick in order to purchase one of these unique board games.
The children have been very enterprising in getting locations to sell these games. Firstly they are having an open day today, Wednesday 11th, 2018  from 1 pm to 3 pm in the Gaelscoil located on the Emoclew road, Arklow. On Thursday they will be in both Bridgewater shopping centre and Tesco's and on Friday they will be in Bolands of Arklow, also on the Emoclew road.
If you do miss out and would like to view these games there is a JEP event for all these enterprising children from schools around Ireland in the RDS in June.
There are more information and images up on Facebook. Click here for their Facebook page.
No1 SEO Ireland has been delighted to assist in developing the game and in helping to sponsor this. While the children are the future, they will get nowhere unless they learn useful skills such as in the JEP program.