I have just received this email offering me SEO this morning! It annoyed me so much that for once I replied to a spam email . Read the email for yourself and my reply. Like most people, I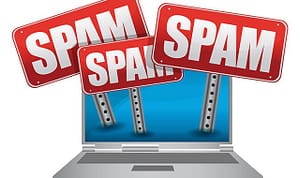 normally just delete these from my spam filter, but this one got through as an email and really got me going. I wouldn't be surprised if many of you have received the same one. Don't believe every spam email you read!
Spam Email
"Hi,
After a quick look at your website and the code, I'm sorry to say that the SEO firms you hired might have ripped you off. There are obvious spots in the code where SEO techniques could have been utilized but weren't. There are other things one or more of the SEO firms did that could actually be hurting your site's performance.
The website code also looks old and uses techniques that aren't exactly SEO-friendly. IMO it's a combination of both the site code and poor work by SEO firms that are affecting your search engine performance.
sincerely
jenny will***
jenny******@gmail.com"
Even though I knew I shouldn't this is my reply.
My Reply
Hello Jenny,
Your scare tactics may work on some companies, and I am sure that you have sent out 10's of thousands of these emails in the hope you might get a couple of inquiries but….
Firstly, may I say that as I am my own SEO expert, and run my own SEO company, No1 SEO Ireland , I know that all your claims for the wedding car company are bogus. You could be leaving yourself open to a charge of slander in fact. I am sure this doesn't worry you as your email address is just a throwaway one. Just in case someone does decide to make a case against you.
Secondly, I have the wedding car company, Odyssey Wedding Cars,  that you sent this email to, on the first page of Google for every county in Leinster. It is called localised SEO – maybe you have heard of it?
Thirdly, the site was only rebuilt just over a year ago, and everything is kept up to date.
Fourthly, why do you and spammers like you feel it is OK to try to take money from people who are not I.T. savvy?
Fifthly, you are using a Gmail account. Most companies will know that mainly spammers use these! Why not do a genuine SEO audit and contact people with an email from a real company? You are much more likely to get results in this way. Maybe you can't?
Lastly, if you were good at SEO, then surely your company would be getting more inquiries than you could handle? Isn't this what SEO is for?
Kind Regards,
James
What was my point?
I have shared this mainly because I often hear of people/companies that are scared into contacting people like Jenny. From reports I have heard first hand, once they have your telephone number they will hound you for ages trying to sell you an SEO package. I repeat – Don't believe every spam email you read
What to do if you are genuinely worried about your website?
Get a company like mine to have a quick look. We are small but down to earth and relaxed in our manner of dealing with clients. If I am asked to do a full website audit with a report I do charge! But for a quick 10 minute run through and a chat over the phone, I don't! (089 479 9227) . I am sure most SEO companies in Ireland are the same.
As a bit of throwaway SEO advice.  Never write a blog of any sort without putting in a link to the Website/Facebook Page/etc that you are trying to promote. You should never make it difficult for people to find you!    And it will give your website a small SEO boost as well.